Preventing SVSH is a community responsibility
Opportunities to get involved
Want to do more to prevent sexual harassment and sexual violence (SVSH) in your community? 
UC Berkeley uses a primary prevention approach, focusing on the ability
of the university, and our communities within it, to prevent harm from occurring before it happens.
Make an impact - become a proactive leader in prevention for your community. Find out how on this page.
Latest Opportunities
Join the
PATH to Care Center's campus-wide
#WeCARE campaign
which aims to create a safer community for all of us
. Unfortunately, remote work and shelter-in-place due to COVID 19 has not reduced sexual harassment and relationship violence, and in some cases it has increased. Here are 3 Things You Can Do to Create a Campus Free of Sexual Violence & Harassment:
Share the campaign among your networks and include the following in your caption:
Say what the rest of us are thinking! Most of us would intervene when we see concerning behavior like sexist jokes, condescending comments about gender, and stalking. The PATH to Care Center values your opinion; complete a 4 questionsurvey and enter to win a $25 gift card!

@PATHtoCareUCB #WeCARE (for social media)
Be an everyday active bystander: interrupt concerning behavior before it gets worse!Learn about the indirect and direct ways you can intervene.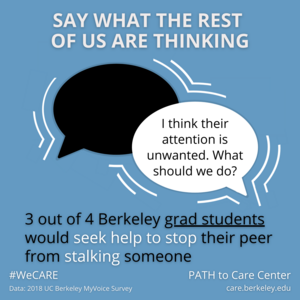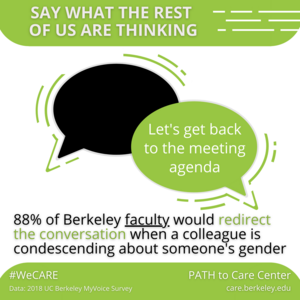 ---
Teach | Respond | Act | Inspire | Lead
Do you want to enhance your SVSH prevention skills? 
Do you want to influence campus culture?  
Are you ready to be a TRAILblazer?  
Become a PATH to Care TRAILblazer — RSVP today! 
Join the PATH to Care Center for an exciting leadership training opportunity for the UC Berkeley campus community (undergrad and grad students, faculty, and staff) to gain valuable skills and tools to prevent and respond to violence and harm. 
Get Involved Anytime
There are many ways to get involved in prevention at UC Berkeley, whether you're a student, staff, or faculty member. Many departments and organizations on campus are active in preventing SVSH at Berkeley and have opportunities to get involved. Below are some of those departments and links for how you can get started. 
Unsure of where to start? The PATH to Care Center leads SVSH prevention efforts at UC Berkeley and is a great place to get started for anyone, including students, faculty, and staff.
Website: care.berkeley.edu | Email: pathtocare@berkeley.edu